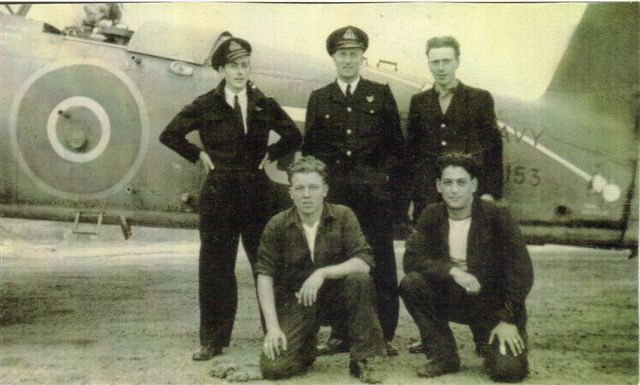 The Cromarty Archive
Barracuda Crew - 817 Squadron - Fearn
Iain says: "I posted a comment on 13 March re the Barracuda photo on your web site. (See
picture #622
)
The local interest is that the pilot (hands on hips) is the late Don Grant who "belonged" to Brora. After WW2 he joined the RAF and (among other places) spent a considerable time as Base Training Instructor on Shackletons at Kinloss. I know at least two retired BA Captains who sing Don's praises, having had him as their "Trainer" on Shackletons at Kinloss.
The Observer, next to Don, (?MacKenzie) "belonged" to Inverness and next him in the back row is the Telegraphist Air Gunner.
In front are the airframe and engine mechanics.
If you have received the photo satisfactorily I will 'search the archives' for a letter which gives more details. The mechanic on the right, (sadly now deceased) some years ago, sent a copy of this photo to the Newsletter of the FAA Officers Association. With the photo he sent a letter in which he said that this was "his" crew and that they had been killed in an accident at Fearn and he would like the photo to go to their relatives.
I knew he was mistaken since although more than one crew "failed to return" from various exercises whilst we were at Fearn, only one crew was lost over the land. This was from an aircraft which was doing dive bombing practice on the Range at Nigg Bay, and a wing came off the aircraft during the dive. So this was the only funeral involving 817 members at Fearn."
Picture added on 05 May 2009
Comments: