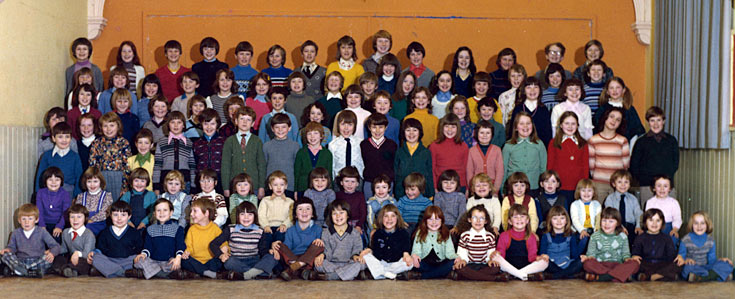 The Cromarty Archive
Cromarty Primary School - Classes of 1977
** Click on the magnifying glass icon below the picture to view a larger version. **
Back Row - Left to right
Angela Reid, Donna Stewart, Stuart Hill, Allan Campbell, Martin MacKay, Duncan McBean, James Fraser, Lynne Sharp, David MacPhee, Robert Cooper, Audrey MacKenzie, Evan McBean, Maurice Mulhearn, Vincent Owens.
2nd Back Row - Left to right
Yvonne Nicolson, David Franklin, Kim Sharpe, Gordon Kelly, Lynne Thomas, Wendy Franklin, Douglas Kelly, Grahame MacPhee, David Watters, Stroma Campbell, Mandy Reid, Josephine Shepherd, Lorraine Hill, David Logan, Gary Thompson, Allan MacDonald.
3rd Back Row - Left to right
Paul Shepherd, Leonard Reid, Nathan Gorman, Carston Innes, Robert Watson, Shaun Anders, Donald Cameron, Laura MacDonald, Steven Kelly, Miranda MacLennan, Trica MacIver, Kenneth Young, Christina MacIntosh, Jacqueline Pickett, Catherine Tilbrook.
4th Back Row - Left to right
Gregory Cooper, Blair MacKay, Jacqueline MacLemman, Joyce Thompson, Donna Logan, Rosemary Chalmers, Malcolm MacIver, Kevin Richie, John Reid, Andrea Cummings, Colin Logan, Steven MacPhee, Jacqueline Winton, Yvonne Sim, Wendy Reid, Donna Sim, Elizabeth MacLeod, Loren Scott-Lodge, Andrew MacKenzie.
On Seats - Left to right
Wanda MacKay, Elaine MacDonald, Yvonne Urquhart, Kelly Lewis, Gillian Shepherd, Laura MacDonald, Anthony McEwan, Callum MacIver, Kerry Ratcliffe, Tracey McIver, Harvy Smith, Neil McIver, Raymond Thomas, Linda Richie, Jane-Anne MacLennan, Fiona Shepherd, James Anders, Rosemary Kelly.
On Floor - Left to right
Adrain Hill, Leslie Nicolson, Malcolm MacPhee, David Jack, Roger Hendry, Murdo MacKay, William Taylor, Terence Owencs, Georgia Tilbrook, Paula Stewart, Catherine Shepherd, Yvonne Cooper, Lisa Brewster, Fiona MacDonald, Serena Shepherd, Shona Robinson.
View Large Version
Picture added on 03 October 2011 at 15:23
Comments: