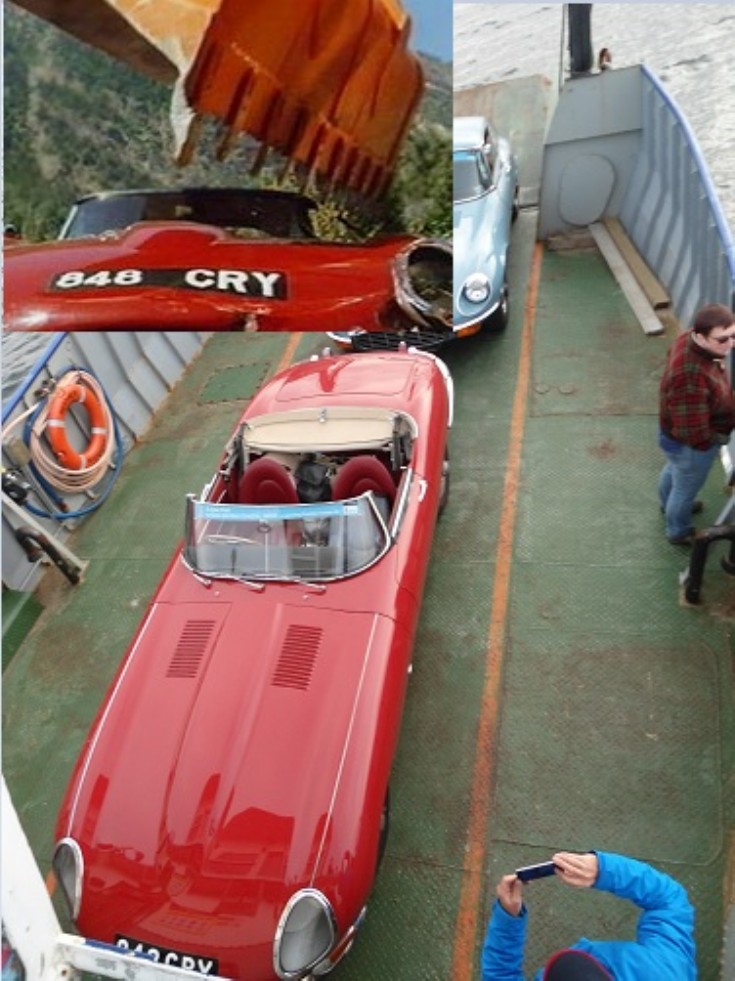 The Cromarty Archive
New Picture
A touch of History and miraculous regeneration. The Italian Job E-type Jaguar crossing on the Renfrew Rose (Nigg to Cromarty) summer of 2016
Inset (top Left) a screen shot of the Mods Destructive prowess.
Jaguar E-Types
Croker's plan involved three fast cars on standby. Two of these cars were Series 1 Jaguar E-Types, in effect the British rival to the Italian Miura. One was a black fixed head Coupe, the other was a red roadster. Unfortunately, these Jags suffered the same fate as the Miura, being crushed By the mob and pushed down the mountainside. The production crew managed to get the E-Types for £900 each, which was a bit of a bargain at the time, even though they were 7-8 years old by then.
Little is known about the black fixed head coupe, the registration was 619 DXX, but the red 3.8L Roadster (848 CRY) is alive and kicking today. The early Roadster was originally the demonstrator for the Leicester distributors, Sturgess's - it was the 12th E-Type to be built. It was the first E-Type to be involved in motorsport and was raced with success during 1961 by Robin Sturgess with the registration 2 BBC. In 1962 Sturgess re-registered the car 848 CRY and it was sold. Then it ended up in the hands of model Richard Essame, who landed a part in The Italian Job, as 'Tony', one of the Cooper drivers. Richard drove the car to location in Italy and where the production team thought it would be ideal in the movie and purchased the car from him.
It's unclear where the Jag was since the filming finished, but it was totally restored in the early nineties and has been featured in a variety of magazine articles and on BBC's Top Gear programme and is owned by internationally renowned Jaguar author, motoring historian and founder of The E-Type Club, Philip Porter.
Picture added on 28 October 2016 at 18:53
Comments: