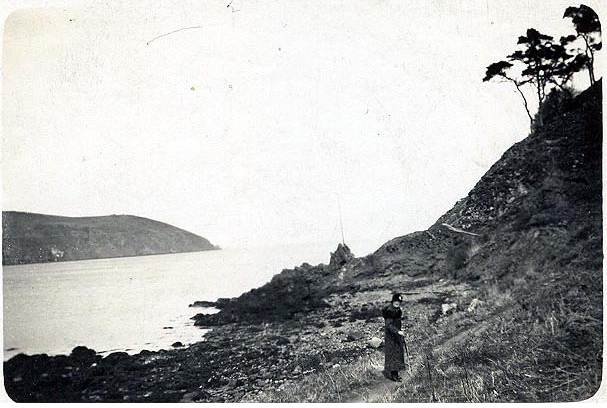 The Cromarty Archive
Shoreline at the targets - c1942??
Mary says:- "The figure shown is my grandmother, Bella Chapman, and I reckon that that the picture may have been taken in the 1940s.
This was obviously a popular walk for our family. Many a time, since I was quite young, we used to go for a walk 'along the rocks', normally as far as the Dripping Cave. This was sometimes quite exciting as a youngster, especially when the tide was in, having to clamber round narrow ledges to avoid the spume. I still have a scar on my leg as the result of a fall when I was 8 years old from a large rock which I chose to try and climb over instead of around. (This rock was actually not so large when I was grown up!)
Do people still visit the Dripping Cave? Can one still get into it? My recollection is that there was a huge stalagtite at the mouth of the cave that you had to edge round to get in - presumably it will have grown a bit since then..."
Picture added on 30 March 2004
Comments: